I recently came into the possession of several hundred Project Life/Journalling cards. (and by "came into possession," I really mean that I went batshit crazy and bought them all even though I don't do Project Life and have no desire to do so. Because that's the type of shenanigans that occur when people are in the throes of stationery madness: they buy adorable pieces of paper that they have no intention of using. You know, crap that "normal" people would never do and don't understand!)
I was trying to think of what I could do with all these little cards and then I stumbled across the
Mail Tag game
. Created by Bianca of
Goodnight Little Spoon
, and then expanded upon by the creative Rin of
Papered Thoughts
, mail tag is: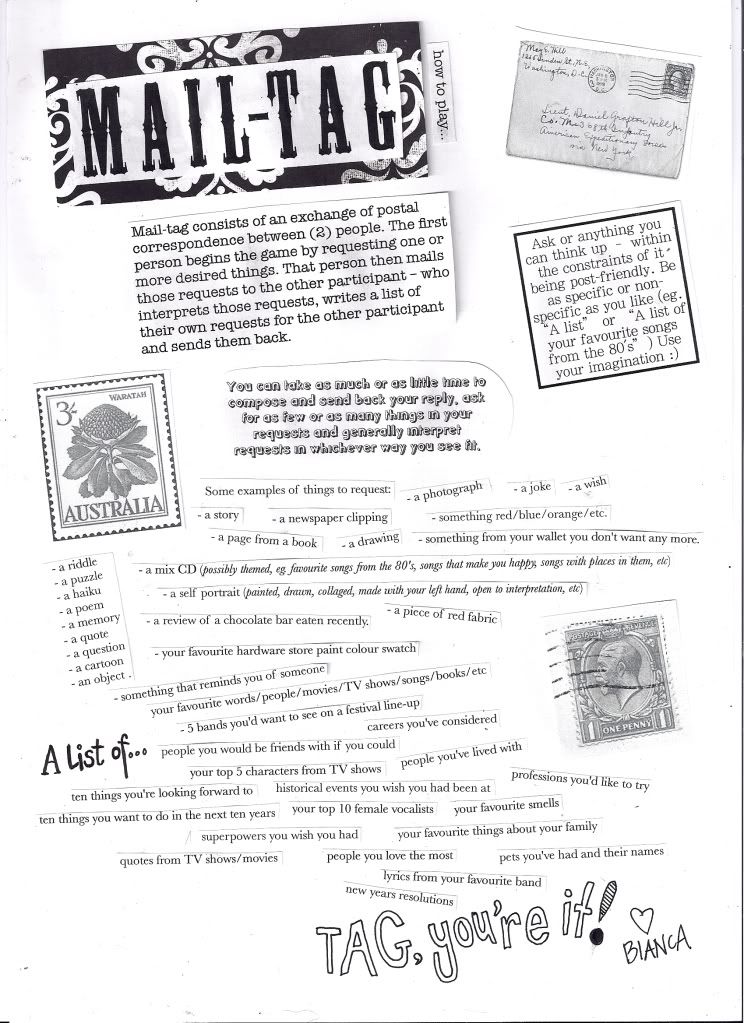 "...an exchange of postal correspondence between (2) people. The first person begins the game by requesting one or more desired things. That person then mails those requests to the other participant - who interprets those requests, writes a list of their own requests for the other participant and sends them back. You can take as much or as little time to compose and send back your reply, ask for a few or as many things in your requests and generally interpret requests in whichever way you see fit." - Bianca Jagoe
Want to play?
I'm not looking for new penpals at the moment because I'm actively trying to scale back on all the activities I'm currently doing, but I figured mail tag would be a fairly low commitment (but fun and creative!) activity that could help feed my mailbox (and yours!), while UsingUpAllThoseJournallingCardsThatIProbablyShouldn'tHaveBought.
So, how about it? Are there a few brave and intrepid snail mailers who would be interested in playing mail tag with me? Email me at
pleasedeliverto@gmail.com
if you're interested.
No additional letters or postcards would be required (unless you really wanted to pen a short note with each tag session, of course)—just you and me, the tag questions, and our creativity in answering the questions/fulfilling the tag requests. It's meant to be a quick and easy creative exercise and writing prompt, more than anything else.
I can guarantee you that my tag questions will have an air of the bizarre about them, but if you're game, than so am I! Bring on the equally weird questions, I'm ready for them.
And for the record: if you're going to ask "What is my favourite llama"? The answer is: the third one. Always the third one. You're going to have to get up mighty early if you think you're going to stump me with an obvious llama question.
Ready? Set? Match.